VLC is one of the most widely used media players. It was one of the first open source media players to get encrypted DVD playback capability, and now, it looks like the time has come for Blu-ray playback capability also.
Playback of unencrypted Blu-ray ISOs and folder structures has been possible without menus since VLC 1.2. VLC also has a GPLed open source library for the implementation of the AACS specifications. From the end-user's perspective, the big missing piece of the puzzle was the AACS keys database and how to get it integrated with the VLC installation. A simple Google search was enough to reveal the key (pun intended).
The above configuration should help people with the playback of most of the older Blu-rays, while the more recent ones could be a hit or a miss. Will this be enough to replace commercial Blu-ray players like the ones from ArcSoft, Corel or Cyberlink? Unfortunately, that is still quite some time off. The following aspects need to be resolved for that to happen:
Audio codecs: There are no open source DTS-HD decoders available. VLC will only decode the Dolby Digital / Dolby TrueHD / LPCM / core DTS tracks in the audio stream. HD audio bitstreaming is also not currently supported.
PiP features: There is no support for Blu-ray Picture-in-Picture (PiP) features yet, but this should be possible considering that the VLM already supports generation of PiP output.
BD-Live: It can be safely said that VLC will probably never get BD-Live features which require BDA licensing. That said, I am not really sure BD-Live features are actually beneficial to the consumers in any way (I would love to hear feedback from readers on this).
Menu functionality: This is probably the most requested feature when one analyzes Blu-ray playback support. Fortunately, a recent tweet from a VLC developer indicates that a lot of progress has been made towards this functionality. It should get integrated into the main branch in time for the release of VLC 2.1 / 3.0. We are keeping a close watch on the development of this feature for VLC.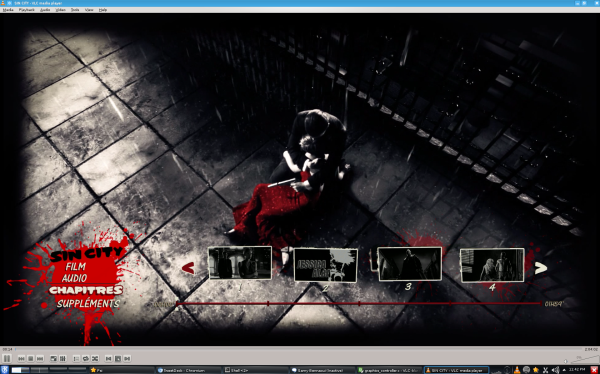 Blu-ray Menu Functionality in VLC (Courtesy: Hugo Beauzée-Luyssen)
The AACS keys will never be part of the official VLC releases (since it enables copy protection circumvention), but open source support for Blu-ray playback is bound to be a boost for the format amongst the consumers (though the licensing entities are going to fret the loss of revenue). If VLC gets full menu support along with HD audio bitstreaming for unprotected Blu-ray ISOs, that will be a huge step forward for the Blu-ray format.
Source: Google Search