Intel's HD 2500 & Quick Sync Performance
What makes the 3470 particularly interesting to look at is the fact that it features Intel's HD 2500 processor graphics. The main difference between the 2500 and 4000 is the number of compute units on-die:
Intel Processor Graphics Comparison
Intel HD 2500
Intel HD 4000
EUs
6
16
Base Clock
650MHz
650MHz
Max Turbo
1150MHz
1150MHz
At 6 EUs, Intel's HD 2500 has the same number of compute resources as the previous generation HD 2000. In fact, Intel claims that performance should be around 10 - 20% faster than HD 2000 in 3D games. Given that Intel's HD 4000 is getting close to the minimum level of 3D performance we'd like to see from Intel, chances are the 2500 will not impress. We'll get to quantifying that shortly, but the good news is Quick Sync performance is retained: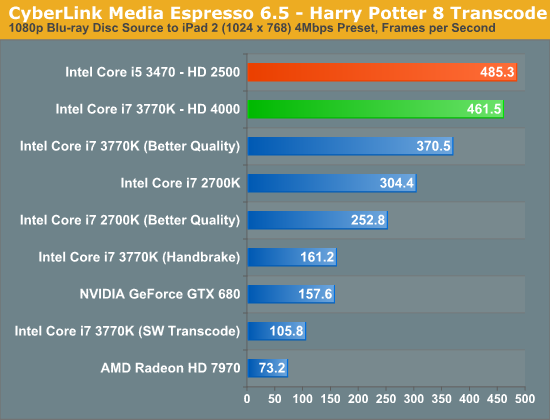 The HD 2500 does a little better than our HD 4000 here, but that's just normal run to run variance. Quick Sync does rely heavily on the EU array for transcode work, but it looks like the workload itself isn't heavy enough to distinguish between the 6 EU HD 2500 and the 16 EU HD 4000. If your only need for Intel's processor graphics is for transcode work, the HD 2500 appears indistinguishable from the HD 4000.
The bad news is I can't say the same about its 3D graphics performance.