Gigabyte GA-7PESH1 BIOS
As the server team at Gigabyte is essentially a different company to the consumer motherboard team, there is little cross talk and parity between the two. When the consumer motherboard side used the C606 server chipset for the Gigabyte X79S-UP5, the whole package got the consumer motherboard BIOS, software and utilities. With this C602 enabled GA-7PESH1, utilities such as the BIOS and software are designed in the server department and are not as well designed as their consumer counterparts.
In terms of the BIOS, this means we get a reskinned Aptio Setup Utility from American Megatrends, rather than the 3D BIOS implementation. Aesthetically the BIOS is prehistoric in terms of recent trends, but the server based platform has a lot more to deal with – having just a list of options make it very easy to add/subtract functionality as required.
Updating the BIOS is a hassle from the off – there is no update feature in the BIOS itself, and the utilities provided by Gigabyte are limited to DOS bootable USB sticks only. This means sourcing a DOS bootable USB stick in order to put the software onboard. There are a few utilities online that will streamline this process, but due to some memory issues I initially had with the motherboard, thankfully Gigabyte talked me through the exact procedure.
The front screen of the BIOS is basic at best, telling us the BIOS version, the total memory installed and the system date. Despite the market orientation for such a product, some indication as to what the motherboard is and the CPUs that are installed, at the bare minimum, would have been nice.
Apologies for the quality of the BIOS images – the BIOS has no 'Print Screen to USB' utility, and thus these images are taken with my DSLR in less-than-ideal lighting conditions.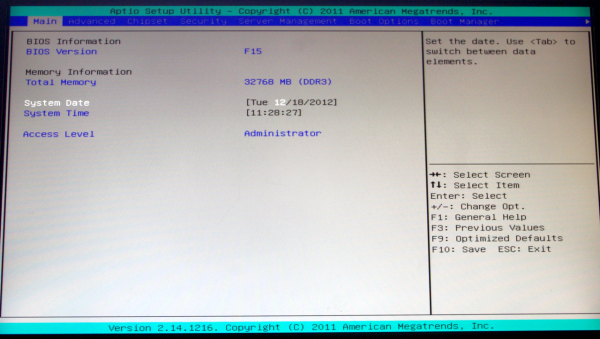 The Advanced menu tab has options relating to PCI Configuration, Trusted Computing (TPM), CPU identification and configuration (such as Hyperthreading and Power Management), error logging, SATA configuration, Super IO configuration and Serial Port options.
The Chipset tab option gives us access to North Bridge/South Bridge options, such as the memory controller, VT-d, PCIe lane counts and memory detection.
In order to access the server management features, after an ethernet cable has been plugged into the server management port, the IP for login details can be found in the server management tab:
Other options in the BIOS are for boot priority and boot override.