The Internals: Snapdragon 600 On-Board
At the core of the HTC One is a Snapdragon 600 (APQ8064Pro) SoC at 1.7 GHz. This is quad core Krait 300 (as opposed to 200 in MSM8960 or APQ8064) which brings a 15 percent increase in IPC as well as higher clocks (from 1.5 to 1.7 GHz), for about 20–30 percent higher overall CPU performance. This is still built on a 28nm LP process, and is analogous to the MSM8960Pro change from Krait 200 to 300, but for APQ8064. HTC One includes 2 GB of LPDDR2 RAM on a PoP in a 2x32 configuration. For storage, there's no microSD card slot, but instead 32 or 64 GB of internal memory with no option for lesser 16 GB configurations. For connectivity the HTC One uses the same MDM9x15 baseband we've seen in Fusion 3 phones and in other places, and as expected the HTC One will come in LTE-enabled flavors for the appropriate operators. There's still no magical single SKU that will do every region, but the most important band combinations are supported. On the WiFi side the HTC One is the first device I'm aware of to include 802.11ac support as well, alongside the usual a/b/g/n, this is provided by Broadcom's latest combo, BCM4335.
The One continues to use the pyramidal internal stacking of display, then battery, then PCB which started with earlier designs. As a result the One includes an internal 2300 mAh 3.8V (8.74 Whr) battery which should be more than adequate in conjunction with Snapdragon 600 to provide good battery life.
HTC One Specifications
Device
HTC One
SoC
1.7 GHz Snapdragon 600
(APQ8064Pro - 4 x Krait 300 CPU, Adreno 320 GPU)
RAM/NAND/Expansion
2GB LPDDR2, 32/64 GB NAND
Display
4.7-inch SLCD3 1080p, 468 ppi
Network
2G / 3G / 4G LTE (Qualcomm MDM9x15 UE Category 3 LTE)
Dimensions
137.4 x 68.2 x 9.3mm max / 4mm min, 143 grams
Camera
4.0 MP (2688 × 1520) Rear Facing with 2.0 µm pixels, 1/3" CMOS size, F/2.0, 28mm (35mm effective), 2.1 MP front facing
Battery
2300 mAh (8.74 Whr)
OS
Android 4.1.2 with Sense 5
Connectivity
802.11ac/a/b/g/n + BT 4.0, USB2.0, GPS/GNSS, MHL, DLNA, NFC
Misc
Dual front facing speakers, HDR dual microphones, 2.55V headphone amplifier
Abandoning the Megapixel Race and Shooting for Quality
I've buried it a bit, but one of the biggest headlining features of the HTC One is inclusion of a camera system that definitely goes against the prevailing industry smartphone imaging trend, in a very positive way. The trend has been smaller and smaller pixels on a smartphone CMOS for some time now, and as generations have marched on we've seen pixel sizes shrink from around 2 microns, to 1.65, to 1.4, to 1.1 which seems poised as the flavor of the year. More of smaller pixels lets an OEM sell a phone with more megapixels, but it's fairly obvious that beyond 8 MP there's not much sense in going way higher. In fact, even with the best possible diffraction limited optics operating under the constraints of a smartphone package, it's impossible to resolve pixels that small. For so long megapixels has been the only figure of merit presented to consumers, and continually increasing that number, at the expense of other things arguably might not make sense. In a world increasingly dominated by photo sharing services which downscale images aggressively instagram (600 x 600) or pic.twitter (1024 x 2048 for the first party image sharing target) or Facebook, does 13 MP make sense?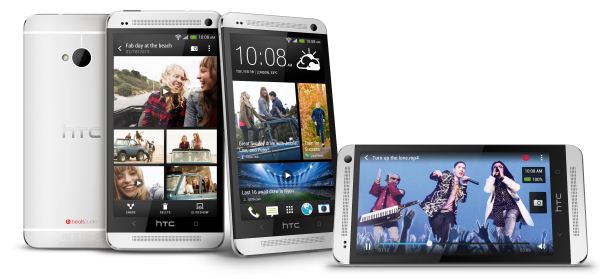 HTC made camera a big emphasis with the previous One X, S, V, and other One series cameras with the first F/2.0 optical system which was shared across all devices. With the new HTC One has taken a huge risk and gone against the trend by keeping CMOS sensor size the same (1/3"), and moving to bigger 2.0 micron pixels, with the same F/2.0, 28mm (35 mm effective) optical system. The result is a camera that trades resolution we arguably can't realize to begin with for dramatically better sensitivity in low light and better dynamic range. In addition, the HTC One includes optical image stabilization (OIS) with +/- 1 degree of accommodation in pitch and yaw to enable even longer exposures without hand shake, as well as for stable video. On the video side, the HTC One also includes HDR video capture at 720p30, normal dynamic range video at 720p60 or 1080p30, and this time video is encoded using the full capabilities of the SoC (high profile, 20 Mbps).
There's a new shooting mode as well which HTC has coined Zoe mode, short for zoetrope. This simultaneously captures a few seconds of 1080p30 video while bursting still image captures at full resolution. The combination is a short video and series of photos at full size which can be shared. This then can be used with a new gallery feature called the Highlights reel which combines this media into a short, computationally edited 30 second video with other photos and videos from the same day. There are a number of different video themes to choose from, and in practice the videos that result are impressively well put together.