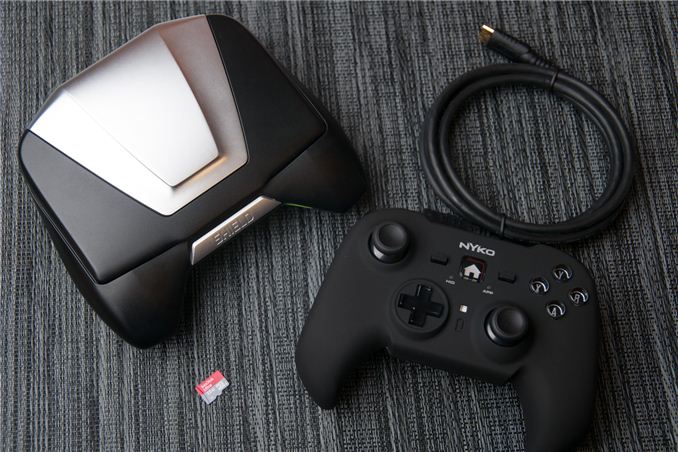 It's been a while since our NVIDIA Shield review, a Tegra 4 packing handheld gaming device running Android Jelly Bean. Today, NVIDIA is taking the lid off a big over the air update to Shield which brings the overall platform version to Android 4.3, takes PC streaming out of beta (and gives it a new name), adds a new console mode, and includes better controller support for touchscreen-only games.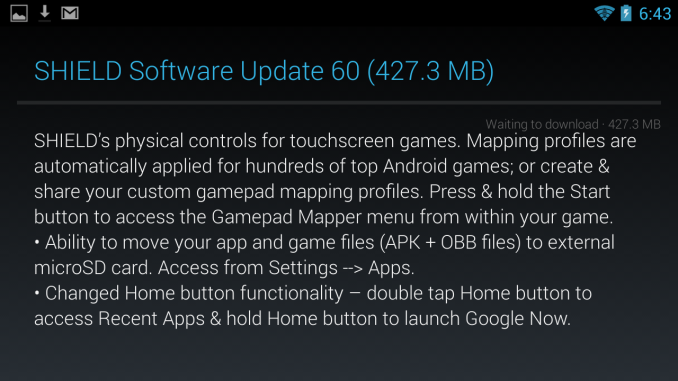 The update is rolling out today to Shield owners, and we had a chance to play with the 427 MB OTA update over the weekend and get a look at what's new and improved. First off, the update as I mentioned brings the platform to Android 4.3, and also adds a handful of other changes to the base software platform. One of the things missing in the initial release was the ability to move large game file APKs and their assets to microSD, even though Shield included a microSD card slot. The update adds the ability to move both APKs and OBB to an SD card if the application opts in. Like you'd expect, this exposes itself properly under the Apps view in Settings. I've been primarily using microSD for storing movies and music on Shield for when I travel, but it you're running out of storage or want to put those microSD cards to good use, this is a welcome improvement.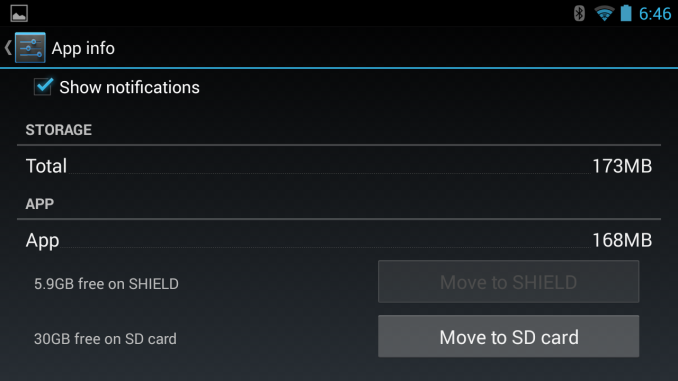 Next, the home button has been tweaked around slightly, probably at Google's request. Holding the home button launches Google Now, double tapping launches the multitasking interface. It seems as if Google wants to standardize on this pattern across whatever devices it can.
Readers will be interested to know that there don't appear to be any improvements to OpenGL ES 2.0 performance either in this update. I ran the updated Shield through a smattering of our tests and didn't see any notable performance deltas, which isn't a bad thing – I still find Tegra 4 very snappy throughout. It's just worth noting that there aren't any surprise performance improvements that I could find.
Probably the biggest update is that the PC Streaming feature is officially out of beta and launching with this 4.3 update. With it comes a new name, GameStream. GameStream includes support for a bunch more titles, 109 at the time of this writing based on the supported games list from NVIDIA. The GameStream feature came with an updated version of the GeForce Experience (1.7.0.0) and release 331.65 GeForce drivers. I tested on both the GeForce Titan based system I use as my primary desktop, and the Falcon Northwest Tiki with GTX 760 inside.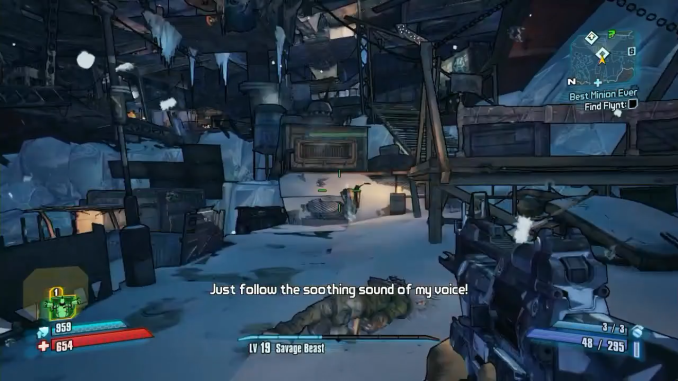 HDMI Capture of GameStream on Shield (more in gallery)
The fundamentals are largely unchanged – you can play PC games on Shield streamed across a local network. Games are rendered at 720p on a compatible system (system requirements note GeForce 650 or higher), which are then encoded and streamed in a low-latency format to Shield, which acts like a remote control.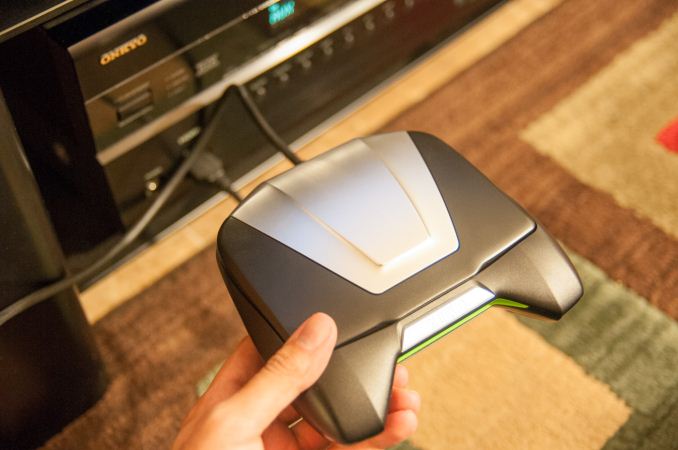 There's a new feature that goes hand in hand with GameStream, called console mode. The name pretty much gives away NVIDIA's long term aspirations for Shield as well. In this mode, Shield can be connected to a TV over HDMI and used in conjunction with a bluetooth controller to stream PC games into the living room. You could do this before to some extent, the new feature now is that Shield will prompt you upon plugging in HDMI about whether you want to use console mode, and reboot with a 1080p framebuffer.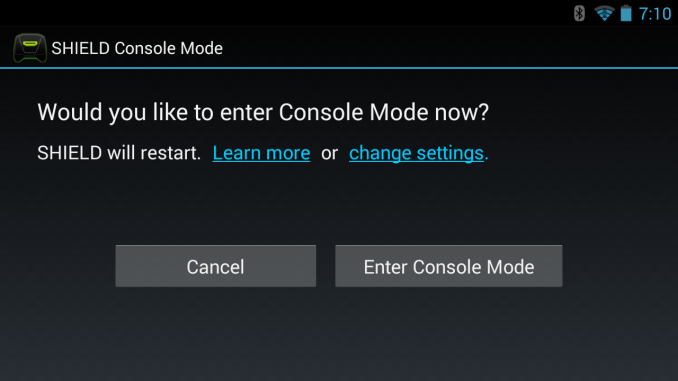 This enables native Android games to play at 1080p along with the native Android UI. GameStream over WiFi remains limited to 720p, however a future update will enable 1080p quality streaming if you're connected to Ethernet with a USB-OTG cable and USB ethernet adapter. Although the Android 4.3 build NVIDIA has supplied works with USB-OTG and USB ethernet adapters (I tried mine), it's true that streaming at 1080p over that faster rate will have to wait, probably for a newer GeForce Experience release.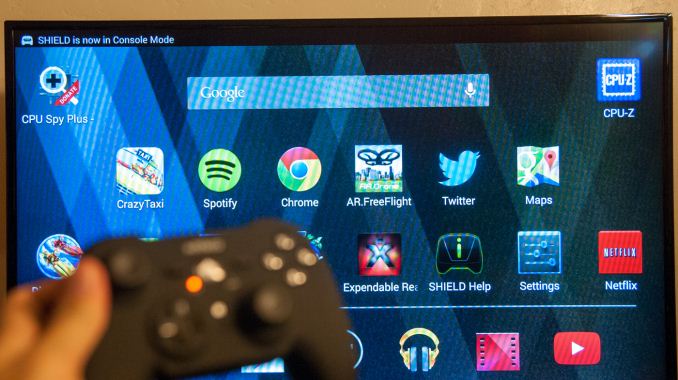 NVIDIA sent over a Nyko PlayPad Pro bluetooth controller to try out console mode. It's easy enough to pair the controller to Shield and then navigate the Android UI using it, since the controls map essentially 1:1 with the native gamepad on Shield.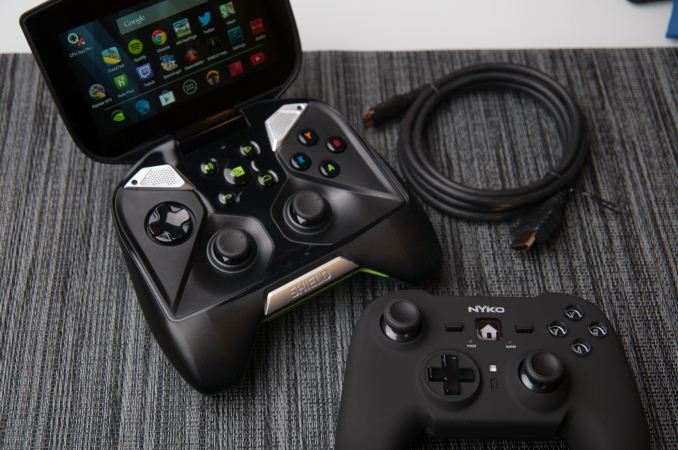 The bluetooth controller has minimal latency, and the Bluetooth and WiFi combo in Shield seems to time slice fast enough that control using the wireless controller while simultaneously streaming content over WiFi doesn't cause any additional stuttering or latency. I have to say that I think this is a much more enjoyable PC game streaming scenario, although it does reduce Shield to little more than an HDMI sink and Bluetooth adapter.
Lastly there's a new feature called gamepad mapper which maps and emulates on screen touches from the controller. This enables Shield control of games which don't work natively with the Android gamepad input APIs. NVIDIA has built a number of profiles which map their analog sticks and buttons, and users can build their own. Launch one of these apps, and you get a notification that the mapper has started. Long pressing the start key brings up an overlay with the gamepad builder and the current mapping so you can know what buttons map to what on-screen elements or commands.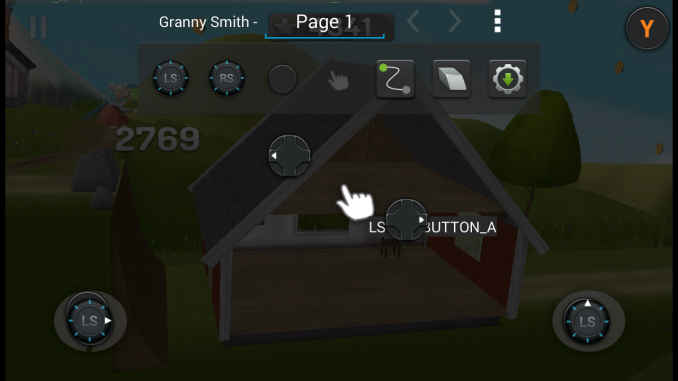 I tried this with a few games, and initially it's a little jarring, but the emulated profiles do work and enable more games than before to use Shield controls, which was one of the big prior limitations. Although I would still prefer for more Android games to just get their act together and use the gamepad input APIs, this does sort of bridge the gap and enable NVIDIA to make the case that Shield does support the rest of the Android game library. I suspected something like this was coming when I first saw Shield back at CES 2013.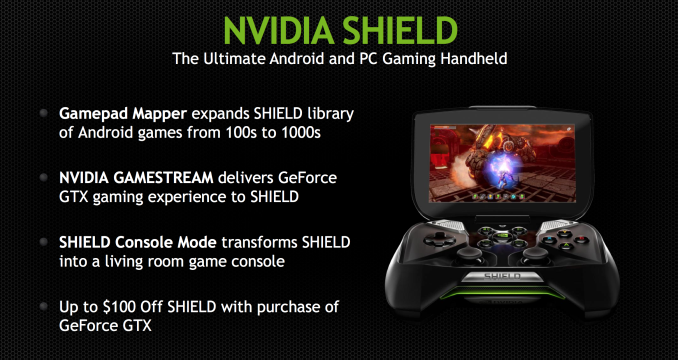 NVIDIA has pushed out a big update to Shield, and a relatively timely Android 4.3 update to boot, although there's 4.4 KitKat just around the corner, which I know is in the hands of most SoC vendors participating in the PDK (Platform Development Kit). Console mode makes a ton of sense, GameShield coming out of beta is a great step forward, and gamepad mapper lets Shield work in theory with the remaining Android game library. It's exactly the kind of update that Shield needed to stay fresh.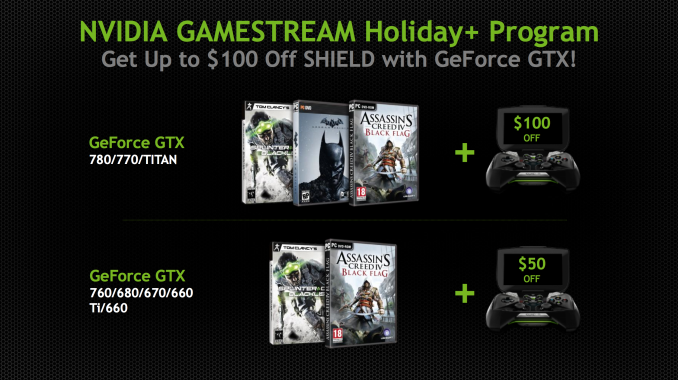 The update comes just in time for the holiday shopping season, and NVIDIA was also quick to note that it's giving $100 off of Shield and three games with the purchase of a GeForce GTX 770, 780, or Titan, or $50 off of Shield and two games with the purchase of a GTX 660, 660 Ti, 670, 680, or 760.