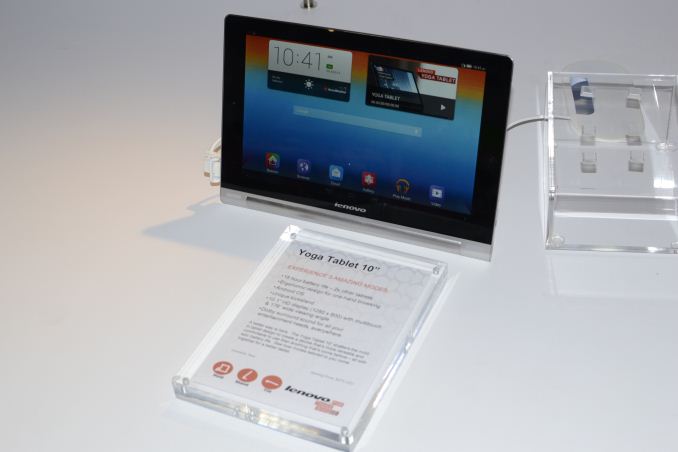 Moving along in our Lenovo coverage, there were a couple of smartphones as well as quite a few tablets on display. The Yoga Tablet 8 and 10 promise up to 18 hours of battery life, thanks to the larger battery in the cylindrical hinge. That hinge is the reason for the Yoga naming, as it sports a kickstand that allows for Lenovo's current buzzword: multimodal. The kickstand can be folded in for regular tablet use, or you can flip it out and use the tablets as either an inclined ramp or as an upright display. While the stand works well enough on hard surfaces, I suspect the real draw for many users is going to be the massive increase in battery life. These are tablets targeting the budget end of the performance spectrum, evidenced by the use of MediaTek MT8125 and MT8389 SoCs. The Yoga 8 comes with a 2-cell 6000 mAh battery, 1GB LP-DDR2 RAM, and 16GB/32GB of eMMC storage (with a micro-SD slot supporting up to 64GB of additional storage); it has a 1280x800 IPS display and weighs 400g. The Yoga 10 is similar in most areas, but has a 10" 1280x800 IPS display and a 3-cell 9000 mAh battery, with a weight of 605g. Both are available now, with the Yoga 8 priced at $199/$259 (16GB/32GB) and the Yoga 10 priced at $275/$289 (16GB/32GB).
The Miix 2 line of tablets takes a slightly different approach, going the detachable tablet route. I didn't get many (usable) pictures of the Miix 2 tablets, but there are three models available: Miix 2 8" has an 8" 1280x800 display, the Miix 2 10" has a 10.1" 1920x1200 display, and the Miix 2 11" bumps the display size up to 11.6" while keeping the 1920x1200 resolution; both feature IPS displays. The Miix 2 tablets are also Windows 8.1 tablets, using Intel's Bay Trail Atom platform. The 8" model starts at $299 for 32GB eMMC and offers up to seven hours of battery life and it's available now. I didn't get pricing or availability on the 10" and 11" models, but I suspect both will be priced a bit higher ($350-$400?) and should be available in the next month or so; they're rated at up to eight hours of battery life. Besides the multimodal (TM!) functionality, the keyboards were reasonably comfortable but do not add any additional battery capacity.
Also on display (but not photographed properly by yours truly) is the new ThinkPad 8 tablet. It has an 8.3" IPS display, weighs 409g, and provides up to 8 hours of battery life. Higher-end features include a micro USB 3.0 port with an optional USB 3.0 dock and a 1920x1200 IPS display. Availability is scheduled for later this month, and the ThinkPad 8 Tablet comes with an Intel Atom Z3770 SoC (Bay Trail) and 2GB RAM, with up to 128GB of eMMC storage. The chassis is also constructed of aluminum, giving this a higher-end feel, the 8MP camera is slightly better than competing tablets, and 4G connectivity is optional. Pricing starts at $399, presumably for the 32GB eMMC model without 4G.
Moving over to the smartphone side of things, Lenovo had two phones on display: the Vibe Z and the K900. The K900 was launched last year and features a Clover Trail+ SoC (Z2760 2.0GHz) with a 5.5" 1080p display with Android 4.2; don't get too excited, though, as it's not for the North American market. As for the Vibe Z, again it's not available in the US market (boo!), but if you live in a supported market it comes with a Qualcomm Snapdragon 800 2.2GHz quad-core SoC, Android 4.3, a 13MP rear-facing camera (and 5MP front-facing), a 5.5" 1080p display, and 2GB RAM/16GB eMMC storage. It felt pretty good in hand, and at 145g it's pretty light, so it might be something for our non-US readers to keep a lookout for.