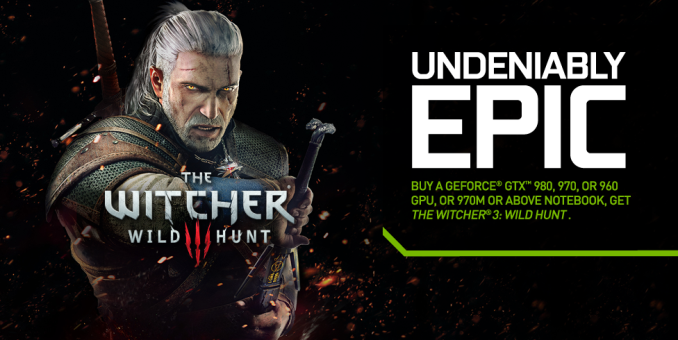 After the launch of the GeForce 900 series last year it's been a while since we've seen NVIDIA offer a game bundle with their video cards. Since bundles are typically used to increase the value of a product, the strong launch of the 900 series has meant that NVIDIA hasn't had much of a need for bundles. With that said, word comes from NVIDIA this afternoon that this is changing and that the company is starting a new game bundle promotion effective today.
Launching today, NVIDIA and their partners will be bundling CD Projekt RED's forthcoming ARPG The Witcher 3: Wild Hunt with select 900 series video cards. The Witcher 3 is the latest game in the Witcher series of games, its two predecessors and their hack-and-slash style gameplay being well received at launch. Meanwhile The Witcher games have always been fairly resource intensive – especially with their lush, open world environments – which for NVIDIA is always good news as it can drive video card upgrades. And like so many of NVIDIA's recent bundles, The Witcher 3 is also GameWorks enhanced, with the game further leveraging NVIDIA's PhysX and HairWorks libraries.
The Witcher 3 bundle is specifically targeted at the GeForce 900 series, and for the first time in a while covers both desktop and notebooks. All 3 current desktop 900 cards – GTX 980, GTX 970, and GTX 960 – are part of the bundle, meanwhile "GTX 970M or above" notebooks from participating vendors are also included. The wording on the notebook offer is a bit odd since the only "or above" part is the GTX 980M, but it at least makes it clear that the lowest-end notebook part, the GTX 965M, is excluded.
NVIDIA Current Game Bundles
Video Card
Bundle
GeForce GTX 980/970/960
The Witcher 3: Wild Hunt
GeForce GTX 750/750Ti
$150 Free-To-Play Bundle
GeForce GTX 980M/970M
The Witcher 3: Wild Hunt
GeForce GTX 965M/800M Series
None
Finally, as always, these bundles are being distributed in voucher from, with retailers and etailers providing vouchers with qualifying purchases. So buyers will want to double check whether their purchase includes a voucher for either of the above deals. Checking NVIDIA's terms and conditions, the program is valid in all regions except China, and the codes from this bundle are good through May 31st, so it looks like this will bundle will run for just short of 2 months. Meanwhile in a break from tradition, it looks like keys for The Witcher 3 will be distributed through GOG, so buyers will be getting the DRM-free version.
Source: NVIDIA